Can a Clogged Gutter Cause a Roof Leak?
How to Repair a Flat Garage Roof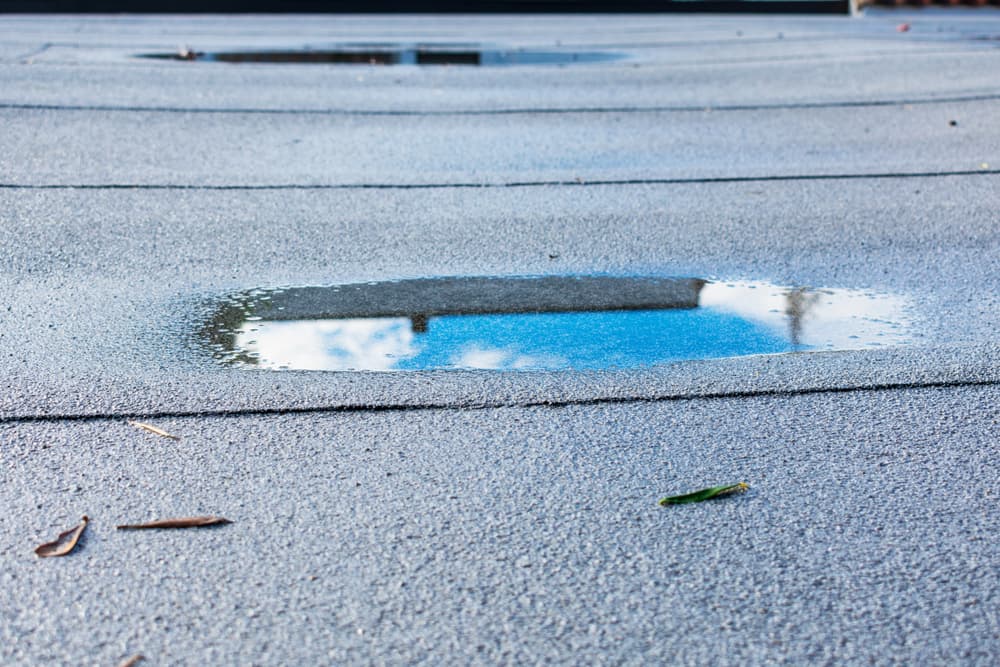 If your roof appears to be dipping or sagging, this could highlight a problem with its structural integrity. However, in some cases, it could also be minor and require a simple fix. But when it comes to any potential problems with the roof, it's best to have a professional roofer look at it to ensure it's safe. It can be dangerous if you're not experienced, untrained, or comfortable with heights. If you're wondering how to fix a sagging, flat roof, here's how the process goes.
Determine the Cause
First and foremost, identifying the source of the problem that's causing sunken areas on the roof is important. In some cases, it could be caused by moisture damage, weakened sheathing, rotting joints or sagging insulation. Flat roofs are typically more susceptible to water damage due to their design. If water pools on the roof with nowhere to go, it can eventually weaken the structure and lead to rot and potential low dips. A complete teardown and roof replacement would be ideal, depending on how severe the water damage is. However, lets try and mitigate a teardown situation by learning how to fix a sagging flat roof through a variety of different methods.
Here are the most common culprits that cause roofs to sag:
Water damage
Weakened Sheathing
Insulation that sags
Age of the roof
The excess weight caused by snow and ice
Improper design and construction
Poor quality roofing materials
Sunk or shifted foundation
Materials that Can Raise Sunken Areas
When sunken areas develop, and it's not due to structural issues, they can be raised using a range of materials, depending on your roof-specific design. Here are the materials that can be used:
Sheet Fillers
When learning to fix a sagging flat roof, it's vital to know about the materials the home is made from, and their age. Many older homes with older roofs were constructed using pieces of asphalt felt paper, which were combined with tar to create flat roof designs back in the day. With felt roofs, sunken areas can be filled using this same method, requiring a few extra layers of felt and tar to prop up those low dips. There are a few different options today, but it's best to stick with something that's on par with your existing roof material. Asphalt-infused, tar-saturated or polyester felt are the main options to choose from today. Whichever is used, always adhere to the manufacturer's instructions carefully. Then place gravel, cap sheet, or asphalt over the top of the felt once it's applied. For more modern, flat roofs that use rubber, you can prop up sagging areas by using the same rubber material and then just cut it based on where it needs to be placed. It'll need to be bonded with bitumen after applying the rubber. This is a great example of how to fix a sagging flat roof.
Liquid Patching Materials
Alternatively, you could use a liquid filler such as roof patch putty to fix a sagging flat roof. A general epoxy concrete filler, followed by mastic sealant, can also work. For gravel roofs, make sure to brush away the gravel so you can apply the material directly on the roof.
Asphalt Fills
Asphalt fills can be applied, along with a liquid asphalt roof coating. This is suitable for roofs made from asphalt, metal or concrete. This will provide a waterproof coating to protect the structure from future moisture damage. An excellent approach to fixing a sagging flat roof.
The Bottom Line
The reality is there can be a range of reasons why the roof is warped. And any roof structure can be susceptible to damage since it's constantly exposed to the weather elements, especially older, flat roofs, which are usually at a higher risk. If a noticeable sag develops on your roof, don't risk injuring yourself. Instead, hire a licensed roofer who knows how to identify the source of the problem and perform repairs that will ensure it's safe and protected. Please let us know if you need any more details about how to fix a sagging flat roof.
Contact our team at Roofmaster for all of your roofing needs in Ottawa!