Can a Patio Heater Be Used Under a Roof?
Can You Change the Pitch of a Roof?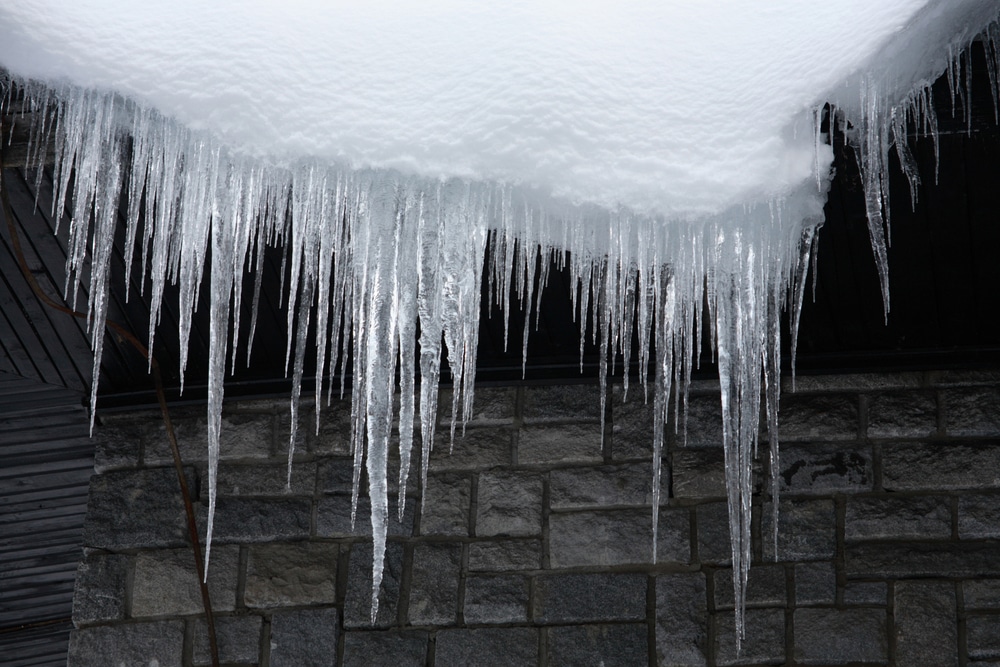 Is the harsh Ottawa winter causing you to have icicles hanging off the eaves of your roof? Are you concerned they may fall off causing damage and possible injury? Here is some information about why and how icicles form and what you can do to mitigate the problem.
Firstly it's important not to confuse ice damming and icicles. They are two different issues and Ice damming on roofs is very different from icicles. Ice damming on the roof is caused by a poorly ventilated and poorly insulated attic in heavy snow fall situations during very cold weather. Leaks due to ice damming occur usually after a considerable ice dam has formed and the temperatures warm up creating a large pool of water behind the ice. On the other hand, icicles is something that happens after water leaves the edge of your roof. It is generally not a roofing problem.
Regardless of how well an attic is insulated or ventilated or how well the roof is installed, icicles can form off the edge of any roof. Icicles form simply because water running off a roof in above zero weather will start to freeze as the temperature drops below zero – most often on mild sunny days followed by cold nights. In this manner, icicles get longer and thicker over time, unless the temperature stays consistently warm or consistently cold for a long period.
If there are no eavestroughs or gutters on your roof, then there is no way to stop icicles. If you have eavestroughs, you will most likely not have icicles forming. If icicles form even when there is a trough, then it means that the trough is frozen full and water is getting by the trough somehow, either over it or behind it.
If icicles are a serious concern, this is how one ensures they do not get them: install good troughs with both a heating cable inside and in the downpipe, and leaf guards on top of it so the troughs don't freeze up or clog with debris. Thus, as long as water flow off the roof is caught in a trough and carried away down the downpipes, there will be no icicles.
If you're concerned about icicles along your roof, here's how our team at Roofmaster can help:
Ice Removal Services
When you're concerned about an accumulation of icicles hanging around your property, give us a call. Our team offers specialized services for removing icicles. Though they may seem harmless, when ice forms around the roof, it creates dams that block proper drainage. During freeze and thaw cycles, excess moisture can easily accumulate since there won't be anywhere for it to drain out. This can make your roof vulnerable to rot and structural damage caused by all of that moisture. 
To prevent water from damaging the roof, it's a good idea to have an inspection performed to inspect the condition of both the roof and ice buildup. We recommend having this done at least once during the season. For homeowners who keep having consistent icicles form on a frequent basis, then it might be best to have a roofing expert inspect a few times during each winter season to remove any blockages before the spring melt-off arrives. 
Snow Removal
Snow accumulation is another common issue that contributes to ice dams and blockages. Heavy snowfalls can place a lot of pressure on the roof structure, and as that snow begins to melt during milder temperatures, it drains down and refreezes. This adds to the icicle problem. If there's a significant build-up of snow along your roof and property, we can assist with that too. During our roof inspection, we will remove snow and ice from around the eavestrough to avoid any negative impacts on the structural integrity of the roof and gutter system.
Roof Inspections
The winter season in Ottawa can be extremely harsh, which places a great deal of wear and tear on our exterior surfaces. That's why it is imperative to have a roof inspection done, at least once per year to assess the condition after the intense winter and repair any damage before it can escalate into a major and costly problem. During our inspections, we'll take a thorough look at all of the components, including the flashing, shingles, chimney, and gutters and keep you fully informed about issues of concern.
If you're concerned about the condition of your roof this winter, don't ignore it. Give us a call at Roofmaster and we'll send someone out to have a look and safely remove any ice build-up perform an inspection if needed.