Pros and Cons of Different Types of Roof Vents
How to Fix a Sagging Flat Roof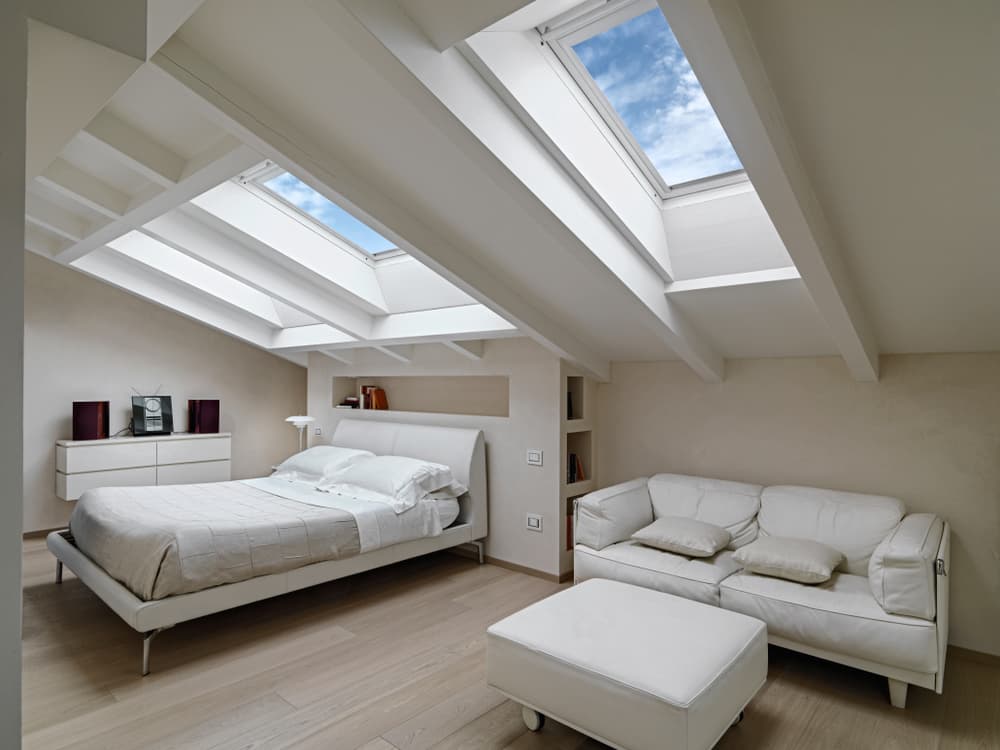 Beyond enhancing the aesthetics of a room, a skylight can improve energy efficiency by brightening up low-lit areas and cutting down on the use of electricity and heating. If you're considering adding one to your home, we discuss the different types of skylights available and which one might be best suited for your property.
Fixed Skylight
The type of skylight that is used the most is the fixed design. This style is set in place and can't be opened to allow airflow inside or out. It essentially acts as an additional fixed window on the ceiling that is completely sealed to the roof. These are ideal for any areas that could benefit from more natural light where you don't need to reach and access it, such as stairwells or hallways.
Ventilated Skylight
Unlike the fixed design, ventilated skylights can be opened, adding both natural light and airflow when needed. These are ideal for those looking to install a skylight in an area of the home that could benefit from increased ventilation. The most common rooms where these are usually installed are the bathroom and kitchen since they can minimize moisture and odours and maximize airflow.
Pyramid Skylights
As the name suggests, this skylight is designed in a shape that's similar to a pyramid and is used mostly on flat roofs. There are multiple versions of this, but all are typically fixed and cannot be opened. These are suitable for adding light and architectural flare to commercial spaces.
Curb-Mounted Skylights
Another highly popular skylight design is the curb-mounted skylight. These tend to be most cost-effective and are suitable for almost any space. These have a very basic, minimalistic design, which makes them so attractive. The size can also be adjusted more easily. Curb-mounted designs are double-walled and thoroughly insulated to provide a strong seal from air leaks. So they are optimal for retaining heat indoors. When you want a simple and easy addition to your home, this is a great choice.
Ridge Skylights
Ridge skylights are like having windowpanes installed on your roof. They add a stunning, sophisticated feature that can drastically improve the amount of natural light while creating a captivating space. Multiple skylights are usually installed along with the same pitch in a line, and they can also be used on flat roofs. These are typically added in living rooms and kitchens.
Custom Skylights
Today, skylights can also be customized for your residential or commercial space. Whether you want something square, rectangular, dome-like, or uniquely shaped, you can tailor it to create something beautiful and one of a kind. Choose any shape and size, ventilated or fixed. This is ideal for those who have a roof that can make it complicated to install the common designs that are available.
How to Choose the Right Skylight for Your Needs:
Make sure you understand what you are aiming to achieve and improve with a skylight for your property. Here are some things to consider when making your decision:
Identify Your Need
What's the main priority of installing a skylight for you? Is it improving natural light inside or enhancing the aesthetics of your interior? Do you need it to open and allow ventilation and better airflow, or can it be fixed and untouched?
Size and Shape
What area are you hoping to have the skylight installed? What type of size and shape might work best for this space? What will look best with the size and layout of the room?
Positioning
Skylights will increase the sunlight inside, but remember that too much natural light might also create an overly bright and uncomfortable interior space. Pay attention to areas that are overly exposed to the sun during the day to avoid installing it in these spots.
Roofmaster has you covered for all of your skylight installation and repair needs. Give us a call to get the expert advice and workmanship you can count on.