3 Effects the Hot Summer Weather Can Have on Your Roof
6 Tips for Cleaning Your Eavestrough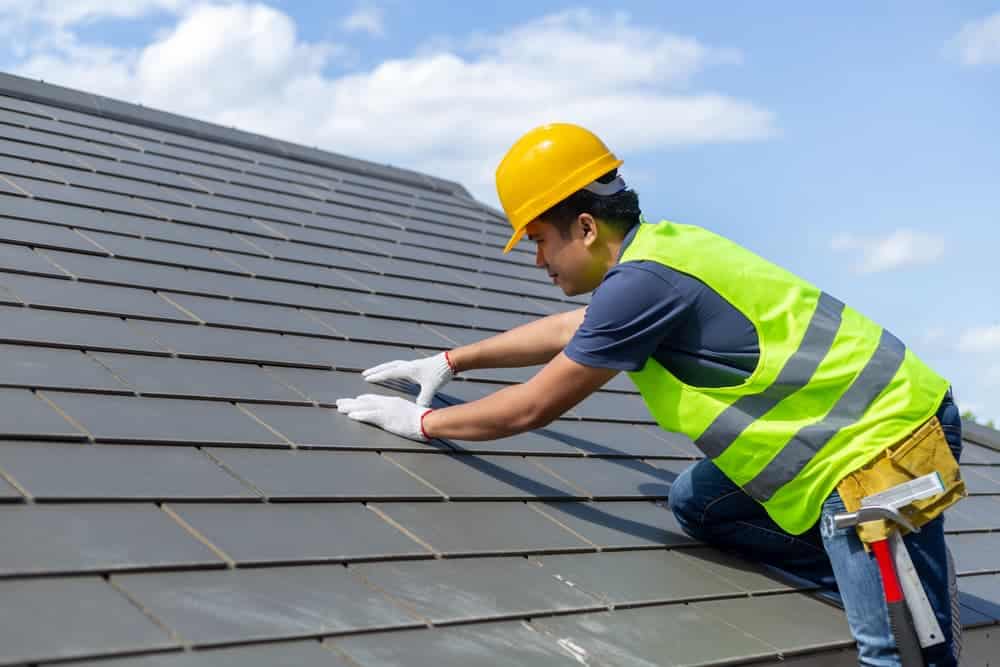 Here in Canada, no area of the home experiences the full wrath of our extreme heat and subzero temperatures quite like the roof. The long winter season is especially challenging for the roof structure because of the combination of high winds, heavy snow and ice, which can lead to extensive and costly damage over time. That's why when it's time for a replacement, the type of materials you select really matters.
If you're contemplating a roof replacement in the near future and want to ensure you're choosing wisely, let's explore some of the best roofing materials for the Canadian climate.
Roofing Concerns in Canada
Depending on where you are in the country, you may experience climate extremes. For example, Ottawa can reach lows below -25 degrees Celsius, experience harsh winds, and achieve highs in the summer above 30 degrees. Here's what extreme climates can mean for your roof:
Cold temperatures can make your roof brittle, causing shingles to crack.
Intense snowfalls and freezing can cause ice and moisture build-up, leading to problems like ice dams, leaking, and increased weight that is too heavy for your roof to support.
Extreme winds and hail can blow shingles off roofs or cause physical damage from impact.
For these reasons, selecting materials based on the weather patterns of where you live is essential, as some types of roofing may be more durable in extreme conditions than others.
How do I Know if I Need A New Roof?
Here are some of the signs to look for that indicate you need a roof replacement:
Your shingles curl up.
You have cracked or missing roof tiles.
The material is at the end of its lifespan (for example, an asphalt roof that hasn't been replaced in 30 years).
Leaks that can't be fixed with a quick repair.
Notice any of these situations happening to your current roof? It might be time to contact a professional and consider which replacement materials are most cost-effective, durable, and can guarantee a long lifespan in Canada. Here are some popular choices:
Asphalt Shingles
The most used material for roofing in Canada is asphalt shingles. This material has been the go-to choice for many years, thanks to its affordability. Asphalt shingles come with the lowest price tag for supply and installation, and they're relatively quick and easy to install.
Thanks to innovations over the years, this material has been reinforced with fibreglass, making it even more durable and long-lasting. On average, it can last from 10 to 25 years, and there is a wide variety of different colours and styles to choose from.
Metal
When it comes to roofing materials, metal might not be something you've really considered. But there's a reason why it's been growing in popularity over the years, especially in colder climates.
Metal roofs are extremely strong and durable, which makes them ideal for withstanding the extreme climate in Canada. Their sleek properties make snow and ice slide right off, preventing the formation of ice dams, which can lead to leaks and other structural issues.
Though this material does come with a higher upfront price tag, metal roofs can last up to 50 years. Metal is also fire-resistant and comes in various aesthetically pleasing designs that mimic the look of traditional shingles.
Keep in mind that metal roofs may rust over time, and they typically require more insulation in colder climates.
Concrete Roof Tiles
Concrete roof tiles consist of a combination of gravel, sand and certain pigments. Because of this, they are thicker in design and very strong. How strong? They're comparable to three layers of asphalt! But when choosing these, it's important to ensure your roofing structure can handle the weight, which is why you should only work with a reputable, professional roofing contractor to make sure everything is safe and sound for installation.
One area of caution with concrete is that while it can withstand extreme weather conditions, it does absorb moisture. When this happens, ice can form and crack the tiles, potentially leading to leaks and structural damage.
Slate
Slate is another durable choice that can handle freezing cold and intense heat. This natural material is a metamorphic rock of sedimentary origin, containing various minerals and clay or volcanic ash deposits. It provides good insulation for regulating the home's internal temperature and provides a watertight seal when installed properly. Since slate tends to be heavy, it's important to be aware that your home's structure may need extra retrofitting to support it.
This roofing material has a higher cost but can be a valuable investment because it often lasts a lifetime with little maintenance.
Synthetic Slate
This type of roof is made of recycled material and looks just like slate. Here are some key differences from its natural counterpart:
Synthetic slate is lighter, which means you may not need to retrofit your home's structure to support the weight.
Synthetic slate doesn't last as long but still has a lengthy lifespan of 40 to 50 years.
This material tends to be cheaper than real slate roofs.
Just like the material it's meant to look like, synthetic slate can take on extreme temperatures, winds, and blizzards. They're usually easy to install, and many are high-impact and fire-resistant.
Finding the Right Roof for You
Choosing the right materials for your roof can be a big decision. Some roofing options may cost more upfront, but this means you'll likely have to worry less about the cost of replacement in the future. Others are more budget-friendly, but you may need to save some extra money down the line to anticipate the cost of repair. To give your home the best protection from our harsh Canadian climate, it is best to speak with a professional who knows the ins and outs of each type of roof so they can provide advice for your unique situation. If you need a roof replacement, you can trust our experts at Roofmaster. We've been industry leaders in Ottawa for over 40 years. Contact us today to learn more about which material is best for your home and budget!